Watch our Retiring Well TV Show, which runs on all major networks in Northern Michigan airing since 2011.


Larry Flynn is a SmartVestor Pro under Dave Ramsey. Ramsey created the SmartVestor directory to help consumers identify qualified investment professionals in their area who have been screened and vetted by Ramsey Solutions.
Learn more about SmartVestors here.
All investing involves risk and you may incur a profit or a loss. There is no assurance that any investment strategy will be successful. SmartVestor™ is an advertising service for investing professionals. Advertising fees are not connected to any commission, portfolio, service, product or other service offered or rendered by any SmartVestor Pros. SmartVestor Pros are subject to initial vetting by Ramsey Solutions, and they affirm a Code of Conduct. SmartVestor Pros are not employees or agents of Ramsey Solutions. Neither Ramsey Solutions nor its affiliates are engaged in rendering investing or other professional advice. Ramsey Solutions does not receive, control, access or monitor client funds, accounts or portfolios. Ramsey Solutions does not warrant any services of SmartVestor Pros and makes no claim or promise of any result or success of retaining a SmartVestor Pro. Your use of SmartVestor, including the decision to retain the services of any SmartVestor Pro, is at your sole discretion and risk. Any services rendered by SmartVestor Pros you contact are solely that of the SmartVestor Pro.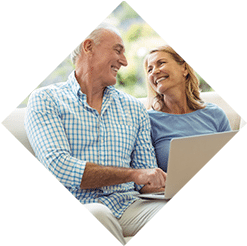 Ready to take the next step?
For more information about any of the products and services listed here, schedule a meeting today or register to attend a seminar.